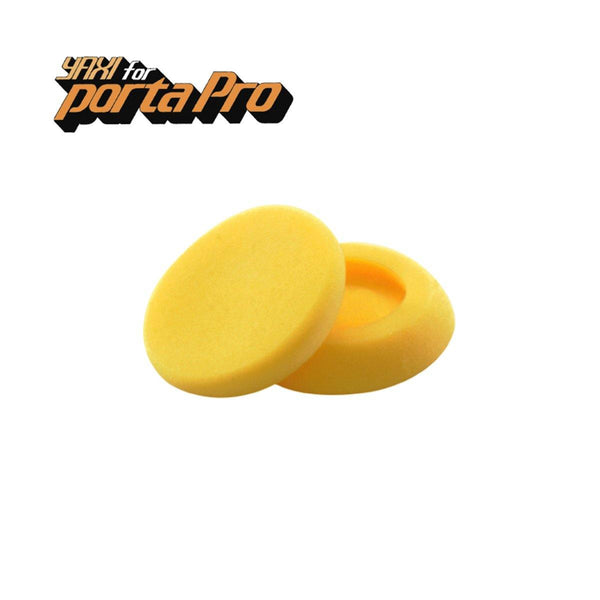 YAXI Porta Pro Headphone Earpads
Based in Japan, The YAXI company specialises in the production of premium headphones ear pads for various leading brands. Combining premium comfort with audio optimisation, the "Made in Japan" ear-pads are the perfect upgrade to your listening experience.
In stock
Headphone Accessory
YAXI
YAXI Ear Pads For Porta Pro Headphones 

YAXI Ear Pads combines premium comfort with improved sound by utilising quality materials, headphone knowhow and improvements to bring out the most in audio performance.  The ultimate in headphone modifications and upgrades. 
Compatible with various headphones—including Koss and Sennheiser models.
Please check our compatibility chart below. 

Design to give the classic Koss Porta Pro a new lease of life, the YAXI Porta Pro earpads is a must upgrade with their larger dimensions.  Clamp force is spread more evenly over the outer ear and they are substantially more padded than the stock foams.  They effectively reduce veil in addition to increasing transparency and detail presence.
Available in a number of colors to choose from, you can customise the look of your Koss Porta Pro and Sennheiser headphones including how it feels on your ear with greater comfort. Made In Japan.
Compatible Headphone Models

Koss

PORTAPRO / SPORTAPRO




KSC75 / KPH30i



Sennheiser


PXC300 / PX 200-II 



 
 


Installation Video by Kevin Claus
Review & Comparison Summary

Review by RYAN SOO

The Koss Porta Pro is quite the classic – an affordable headphone that harkens back to those before while retaining a sound that pleases modern audiences. However, despite being a shocker in the sound department, their comfort accurately reflects their aging design. YAXI, an ear pad manufacturer from Japan provide a simple and affordable solution. Their Porta Pro pads aren't using any unorthodox material such as their Alcantara line, but a soft sponge that better conforms to the ear. Click here to see the full review.
Review by JÜRGEN KRAUS and Biodegraded

The YAXI Earpads are not only eye candy because of their lush colours, they also reduce clamp pressure for improved comfort — and they alter the sound characteristics. For us, the Yaxi earpads worked like the icing on our (old) cakes. They are a little, affordable luxury that provides lots of pleasure and makes us you like and use your old gear again. And isn't that what this hobby is all about? Click here to see the full review.
For More Information
Visit the manufacturer's website.
Returns Policy
groovecentral.com.au handles returns and processes refunds in accordance with the Australian Consumer Protection legislation.

Should you wish to return your order, please notify us within 14 days of purchase with a valid reason for return. If we are unable to resolve your complaint or further assist you, we will process a refund upon timely receipt of the goods purchased. Unopened goods will be refunded in full. Refunds will be processed promptly and payment made by the same method that you made payment. All refunds are made at the discretion of groovecentral.com.au.
Shipping
Physical goods may be delivered by Australia Post and/or other reputable courier companies. Deliveries are processed promptly upon receipt of full payment. Delivery may take between 2 and 14 days, depending on the delivery option. Damaged or lost orders should be resolved with Australia Post or the courier company directly and we are not responsible for goods that are damaged in transit or not received. Replacement of damaged or lost items is made at the discretion of groovecentral.com.au.

Digital goods are delivered immediately. Please be aware there are inherent risks associated with downloading any software and digital goods. Should you have any technical problems downloading any of our goods, please contact us so we may try to assist you.